In Bhutan, almost 10% of the population is part of the monastic system. The clergy plays an important role in the day-to-day lives of the Bhutanese and is a body that is well-respected by the people and an essential part of their being.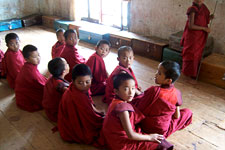 Many of the children who become monks come from economically disadvantaged homes, have a single or no living parent, or live with either their grandparents or other relatives. Therefore, the clergy is almost totally financed by the government. Limited resources spread thinly among all the institutes and monasteries pose a challenge in the provision of nutritious meals, hygienic and adequate living conditions, and quite often, even clothes.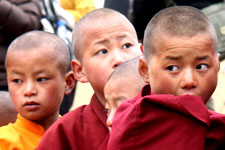 The first monastery sponsored by this program was the ancient Dechen Phodrang Monastic School, which houses 300+ young Buddhist monks in Thimphu, Bhutan. Due to a scarcity of funds, less than half of these boys can receive benefits from the Zhung Dratshang, Bhutan's monastic body. As a result, these young monks must share food rations, clothing and shelter intended for just 150 boys.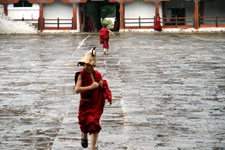 The Sponsor a Monk program was created to meet the needs of very young monks in monasteries across Bhutan. With the increasing number of little novice monks awaiting formal enrollment to get State support, there is a clear need to give budgetary support to monasteries to ensure modest meals for growing children. With support from individual donors who participating in this initiative, conditions at the monasteries we've served have improved dramatically.
Under this project, a sponsor provides $12 USD (Nu. 500) per month for one monk. Through the generosity of donors across the world, as of 2016, YDF has reached over 1200 monks at 8 monasteries in 6 districts across Bhutan.
Would you like to Sponsor a Monk in Bhutan?