While the government provides universal public education for all children in Bhutan until class 10, many children still do not complete basic education. Children are often removed from school due to the socioeconomic needs of their parents. A majority of families in Bhutan depend on subsistence farming for survival, and they view more value in having their children herd cattle or sow the fields than go to school. This is especially true for girls and young women, who are less likely to complete basic education than young men.
Under our YDF President Queen Mother Tseyring Pem Wangchuck Scholarship program, YDF has sponsored over 80 children to complete their basic education, and 190 young people with higher secondary education scholarships. As of today, YDF has ensured more training and employment opportunities, allowing most of our beneficiaries to be gainfully employed.
Program Goals
To provide education opportunities to economically disadvantaged children in remote regions with low literacy rate
To reduce the number of school dropouts before completion of basic education, i.e. Pre-primary through Class X
To provide education opportunities to economically disadvantaged children to achieve higher levels of education
To provide education to children who live under the poverty line of 12%
To support Bhutan's government's policy of "Education for all"
To meet the objectives of the U.N.'s Convention on the Rights of the Child, ensuring non-discrimination, children's interests, the right to survive, and full development and participation of children in all matters affecting their lives
Awarding scholarships to needy and deserving youths
Exploring scholarships opportunities
Networking and partnering with the relevant schools and universities
Identifying the scholarship beneficiaries (need-based and merit-based)
Types of YDF President Queen Mother Tseyring Pem Wangchuck Scholarships
Basic Education Scholarships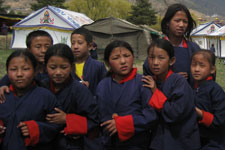 The Basic Education Scholarships help to provide equal access to education for Bhutanese children. Even though education is provided free in Bhutan, there are still some costs that must be borne by parents. Many poor families cannot afford these costs and as a result, they remove their children from school. The beneficiaries of the scholarship are selected from over one hundred applicants and a stringent selection criteria has been defined to identify the most needy children.
Higher Secondary Education Scholarships
Each year, the Bhutan Youth Development Fund supports the higher secondary education (Classes XI and XII) of 15+ underprivileged students from disadvantaged socio-economic backgrounds. Students are selected by the Ministry of Education through strict procedures, including recommendations from community leaders and district administrators. Scholarship beneficiaries are supported for two years while they complete their studies. To date, over 190 students have received support from this program, with the majority of them are already employed.
Jaypee Scholarships
In order to strengthen the growing economy through human resource development, the Jaypee Group of India, in partnership with Bhutan, generously offered 20 scholarships in their institutes for undergraduate and certificate level. To date, more than 140 students have received this scholarship in undergraduate programs and Jaypee industrial training centers.
United World College (UWC) Scholarships

United World College (UWC) makes education a force to unite people, nations and cultures for peace and a sustainable future. It is the only global educational NGO that brings students together from all over the world, selected from within their own countries, on merit and regardless of their ability to pay. Students come together at one of seventeen United World Colleges that aim to foster international understanding and peace. The Bhutan Youth Development Fund administers scholarships to United World College in the USA, Canada, UK, Singapore, Hong Kong, China, and India.
YDF- Royal Thimphu College Need-Based Scholarships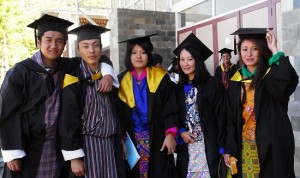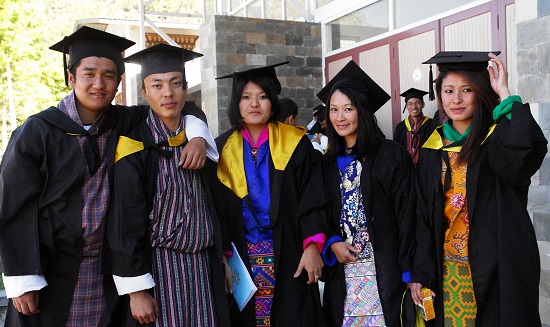 Identifying the importance of education and the reality that there are many capable youth from challenging backgrounds who do not have the opportunity to pursue higher education, the Royal Thimphu College and Bhutan Youth Development Fund are pleased to initiate the Need-Based Scholarship program. Through this scholarship program, economically disadvantaged students can avail the opportunity to further educate themselves in Bhutan and in the long term uplift their families.
Would you like to donate to our Scholarship Fund in Bhutan?

Click Here for other Scholarships