9th April 2021
Job Vacancy Announcement
The Bhutan Youth Development Fund (YDF) invites applications from eligible candidates interested in taking up the following position at YDF:
Position
Slots
Eligibility Criteria
Program Officer

(Under Program & Development Unit)

1
Must have a Bachelor's degree(general)

with four Years of Work Experience in the related fields.

Marketing Officer

(Under YDF Social Enterprise-YDFSE)

1
Must have a Bachelor's degree in Business (Marketing). A Master's degree would be an asset.

Must also have at least three years' experience in marketing.
Terms of Reference for the post of Program Officer
Terms of Reference for the post of Marketing Officer
An application pack containing the following documents must be completed and submitted to the HR & Admin., YDF Office at Changangkha, Thimphu on or before April 20th, 2021:
Curriculum Vitae
Copy of Degree certificates/Academic transcripts
Copy of Citizenship ID Card
Security Clearance Certificate (approved online)
Medical Fitness Certificate
Any other supporting documents (including references from previous employers, if any)
For further information, please contact Mr. Rinchen Tshering, HR & Adm, Coordinator, YDF at 77240358/17160752, or rinchentshering@bhutanyouth.org.
SELECTION ANNOUNCEMENT
YDF is pleased to announce the selected candidate for the post of Marketing Officer based on the interview held on 4th May 2021.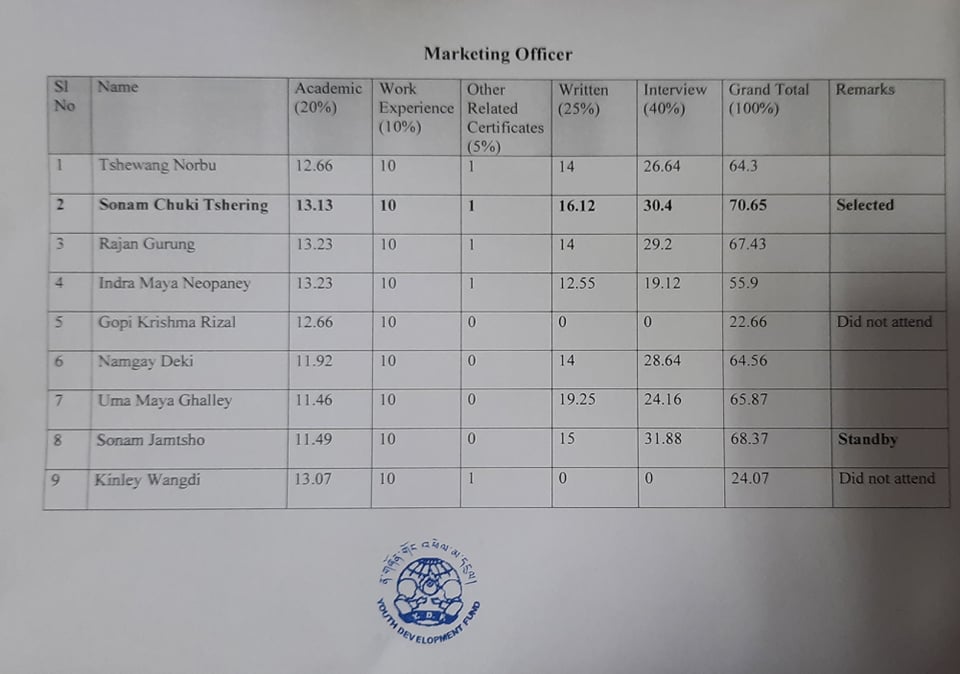 The selected candidate is requested to report to the YDF office, Nazhoen Pelri Complex at 09:30 AM on May 7th, 2021.
The selection announcement for the post of Program officer is withheld by the interview panel committee.