Every year the Bhutan Youth Development Fund organizes various fundraising initiatives done by the youth volunteers on behalf of YDF. This year a cast, comprising entirely of Bhutanese youth presented a musical theater called 'Mother The Touch of Gold' at Lugar Theater on 5th August 2017. The fundraising event collected around Nu. 250,000.
YDF would like to thank His Excellency the Education Minister Lyonpo Norbu Wangchuk, Shyalpa Tenzin Rinpoche and all the bighearted audience for your participation and support at the event. We would also like to thank Lugar Theatre for providing the hall free of charges, and embassies and individuals who helped us in the sale of tickets.
All the funds raised from the event goes directly into supporting the programs of YDF including promoting performing arts like theater.
Thank you for your generosity and partnership in ensuring that the YDF can continue to work towards "A Better Today, A Brighter Tomorrow for the Youth of Bhutan!"
Older news : June 20 2017
'Wear To Be Aware' design training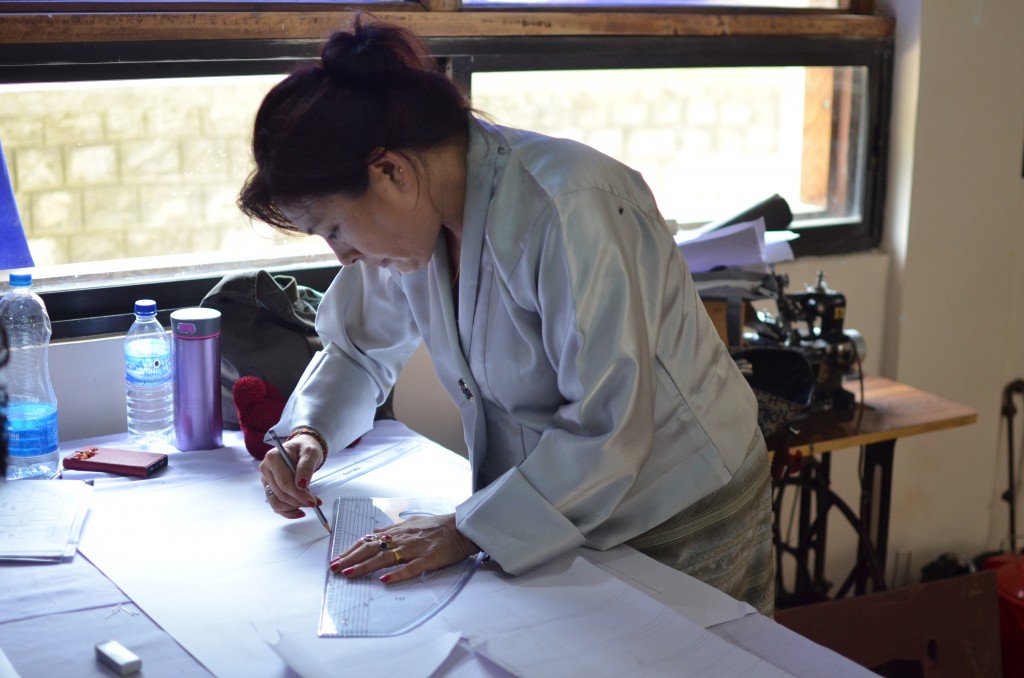 On 12th July 2017, a 22 day Design Training Workshop – "Wear To Be Aware" concluded at YDF hall.
Organized by YDF and facilitated by Mr. Prateek Dev Vimal, designer, a total of 14 participants were engaged in Pattern making, Creation of a collection & principles of designs. The training was aimed to improving skills in conscious designing and arts to further extend the opportunities for employment among the youth.
The garments showcased during the closing event, reflected the pattern making variation skills of the participants fusing with their idea of using easily available local materials together with the promotion of using rags to riches.
Training Outcomes:
The participants acquired basic skills on pattern making which is fundamental to designing.
The participants acquired skills in making variation in garments.
The participants came up with a collection piece of 20 number of garments.
Fashion show showcasing a collection piece of the participants.
The President of YDF, Her Majesty Gyalyum Tshering Pem Wangchuck and Her Royal Highness Ashi Kesang Choden Wangchuck graced the closing day event as chief guests.
My Gakidh Village, Nazhoen Pelri Souvenir Centre, YDF, together with Royal Academy of Design and Innovation, YDF, organized the training.
– My Gakidh Village is a joint initiative of Bhutan Youth Development Fund, Aide et Action International and UNDP Bhutan and aims to curb rural-urban youth migration by providing sustainable livelihood skills and opportunities to unemployed youth within their own communities
– Nazhoen Pelri Souvenir Centre, YDF is a souvenir centre located in Thimphu town above the National Public Library supporting the trainees from Nazhoen Pelri Skills and Training Centre promoting income generation among young women through the provision of training in souvenir making and encouraging use of locally available materials
– Royal Academy of Design and Innovation is an upcoming educational institute of YDF which focuses on:
Promoting Bhutanese textiles and art
Healthy living &
Organic designing and art
The Bhutan Youth Development Fund would like to thank World Wildlife Fund for funding this training.
For further information related to the training please contact Mr. Jigme Thinley, Director of Finance and Investment, YDF at jigmethinley@bhutanyouth.org , Phone: +975-2-327483/3291.