From 24th December 2018 till 11thJanuary 2019
For last eight years, the While (in) g Vacation program under YDF has offered exciting activities that are fun,engaging and effective in building the capacity for the youth through series of fun activities and learning processes. This program is funded by Bhutan National Bank Limited (BNBL).

While (in) g is a regular winter program specially designed for children & youth, where 'while' (verb means "to pass time leisurely") during their vacation in a creatively and productively manners. The program provides deeper insight for the youth of the things that matter the most in their life beside it being fun and engaging.
Well, the While (in) g Vacation program is back for you, lined up with more fun learning and exciting activities.
Vision
To cultivate productive citizens and leaders through quality educational programs.

Mission
To provide wholesome education to every child & youth.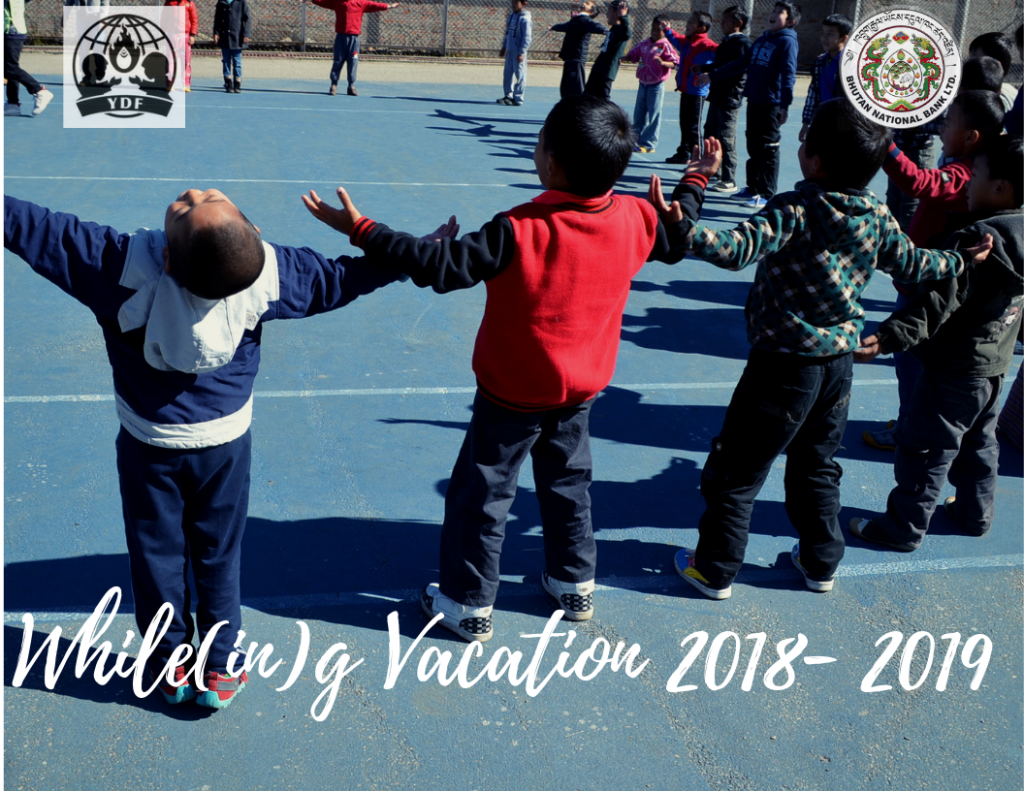 Strategy
To realize the mission through creativity and collaboration.
The program will be divided into SIX categories based on the interest of the individual child and eligibility of their age. All the activities have been listed below.
Junior Reading
Arts and  Crafts:
             I. Traditional Bhutanese Art
             II. Contemporary Art
      3. Dance the story (Theatrical dance)
      4. Education and Edutainment – Theater on Child Protection
      5. Hospitality and mindfulness in daily chores;
             I. Setting tables
             II. Making beds
            III. Folding clothes
            IV. Packing clothes in suitcase
             V. Disaster management
      6. Passport to Success, Life Skills program
We have general sessions for 3 hours each for financial literacy program and education on saving. Participants from 15 to 24 years will have a field trip to BIW (Bhutan Institute of Well-being) in Tshaluna towards the end of the program. The participants will have their packed lunches in the forest. (The participants will be asked to take packed lunches). As a supplementary program, we will also have futsal and badminton for the participants.
SL.NO
Activities

Age Group

Slots

Remarks

Venue

1
Junior
Program

7-14
260
– Reading (120)
-Dance(80)
-Forum theater(20)
– Arts and Crafts( 40)

Nazhoen Pelri Youth Development Centre

2
Young
Adults

15-24
40
– Hospitality & mindfulness in
daily chores (20)
– Passport to success ( Life skills training) (20)

Nazhoen Pelri Youth Development Centre
Total
300
Resource People and Co-Facilitators
Professional Volunteers
Teachers
YDF Scholarship Alumni
YDF Young Volunteers In Action
YDF Program Staff
Overall Coordinator:
Name: Ms. Tashi Deki
Email ID: tashideki@bhutanyouth.org
Contact number: 17751196
Co-Facilitator:
Email ID: tenzinwangchuk@bhutanyouth.org
Contact number: 17999347/7726544
Contact number: 17999347/7726544
Note: Nominal amount of Nu.150 will be charged as a registration fee for one child.