The Bhutan Youth Development Fund is organizing its annual winter program the "While (in)g Vacation program" from 30th December 2019 to 16th January 2020 for the youth and children ages 7 to 24 at Nazhoen Pelri Centre, Thimphu.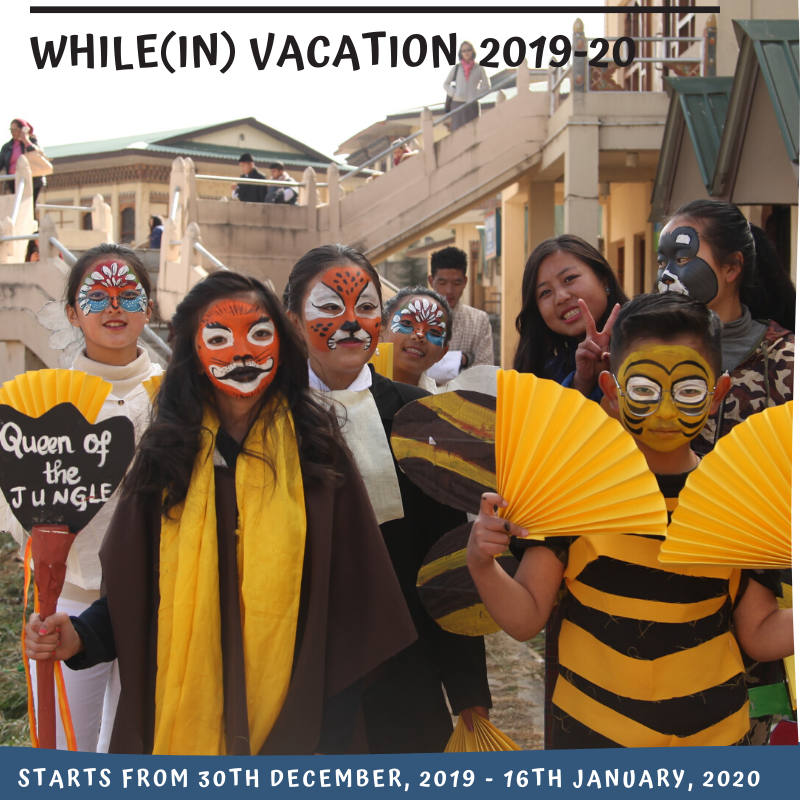 For the past nine years, YDF has initiated 'While (in) g vacation' program annually with an aim to Engage Youth and Children's winter vacation through quality educational programs.
Vision: To cultivate productive citizens and leaders through quality educational programs.
Mission: To provide wholesome education to every child & youth.
Strategy: To realize the mission through creativity and collaboration.
Participants are divided into two age categories with age range from 7- 14 and 15 – 24. The activities are designed to enhance the participants' interests and motivations towards a wholesome education. This year, the winter program provides activities such as Reading, Arts, and Crafts, Dancing, Gross National Happiness Camp and training on Life skills.
The registration is open and the last date for registration is on the 27th of December 2019. So, register NOW! All you have to do is bring the following documents:
One passport-sized photo
A copy of birth certificate/ CID
A nominal fee of Nu.250 will be charged as a registration fee.
The program will be divided into FIVE categories based on the interest of the individual child and eligibility of their age. All the activities have been listed below:
Reading (Age 7-14)
Arts and Crafts (Age 7-14)
Also includes (Age 10 to 14):
i. Knitting
ii. Candle making &
iii. Soap making
iv. Felting (Age : 14 & above)
Dance the Story (Age 7-14)
GNH Value Camp at Bhutan Institute of Well-being (BIW), Tshaluna (Age 15 to 24)
Note* Parents are also encouraged to attend the 5 days Camp by paying a nominal fee of Nu.500 per day (Food & lodging
included)
5. Passport to Success training (Age 15 to 24)
The participants who are attending GNH value camp will get to experience a one-day wilderness program in Tshaluna. Exploring the nature around BIW and have a picnic lunch in the forest. As a supplementary program, the participants (those who are interested) will also have a futsal program on a rotational basis.
The program starts on 30th December 2019 from 9 am to 1 pm.
Resource People and Co-Facilitators
Professional Volunteers
Teachers
YDF Scholarship Alumni
YDF Young Volunteers In Action
YDF Program Staff
Overall Coordinator:
1) Name: Ms. Tashi Deki
Email ID: tashideki@bhutanyouth.org
Contact number: 17751196
Volunteer Coordinator:
1) Name: Ms.Yeshi Choden
Contact number: 17920946
Click HERE to register for the program.